Events in 2017
Solo Exhibition
'Everyday Narratives'
Willis Museum and Sainsbury Gallery
Market Place, Basingstoke, RG21 7QD
23rd September - 21st October 2017
Tuesday - Friday:10:00 am-5:00 pm
Saturday:10:00 am-4:00 pm
Monday and Sunday: Closed
Bethany is a Hampshire based Artist, who defies categorisation, engaging with a broad range of subjects and media. Bethany has exhibited widely both nationally and abroad. She trained at the University of West London for a BA (Hons) in Interdisciplinary Fine Art. She enjoys experimenting with different and sometimes unusual materials and techniques. "In my opinion art should touch the hearts and minds of people in some way. Whether it makes them laugh, cry, feel, think, question, connect with or be otherwise effected." Bethany is also an Art Tutor, catering for both children and adults. "I have a strong belief in the importance of art within our society and am keen to pass on this enthusiasm."
While Bethany's subjects are diverse, her inspiration comes from her own experiences, her friends and family and situations she comes across. Every image has a story behind it and it is this interest in narrative that brings together the exhibition. Her works often contain many layers of meaning and imply a narrative that is never told in full, encouraging the viewer to engage with the artworks and construct their own meanings.
Central to the exhibition are Bethany's graphite portraits depicting Basingstoke Street Pastors and Salvation Army Soldiers. In 2014 Bethany had the opportunity to walk with the Basingstoke Street Pastors as an observer. The resulting artworks are inspired by that experience as well as Bible verses. Her portraits seek to capture the vibrant personalities of the subjects depicted in their various voluntary roles.
While her popular 'Please Mind the Gap' series of train ticket cut outs are a tongue-in-cheek response to the artist's experience of public transport. Each work is both a record of a single journey and an exploration of a wider shared experience that draws on each viewer's personal memories and associations.
Willis Museum Website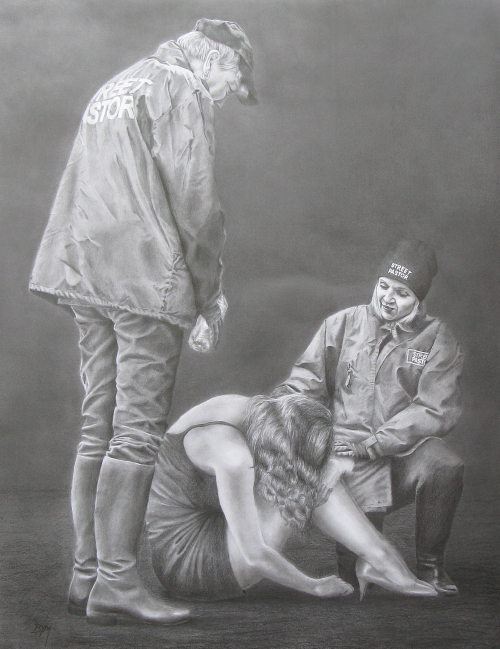 Sherfield Open Exhibition 2017
Sherfield Gallery, , Sherfield School, , Sherfield on Loddon
Private View: 20th January 2017
Exhibition Dates: 20th January - 10th March 2017
The gallery is open to the public from Mon-Fri 9-5pm during term time by appointment.
This will be Sherfield Gallery's fourth Open Exhibition.
Culture On The Common 2017
Sunday, 30th July, 1 - 5pm
Hartley Wintney, on the Cricket Green.
A local Art Exhibition/Craft Sale
Spring Exhibition 2017
Basingstoke Art Club
Artist's talk and art taster session
Kingsclere WI
Wednesday 12th April 2017
Kingsclere Village Hall