About Bethany
Bethany Milam, BA (Hons) is based in Basingstoke, Hampshire. She trained as an Interdisciplinary Fine Artist and engages with a variety of media, including painting, drawing, mixed media and installations. She has a passion for wildlife and birdwatching. Her portraits often depict friends, family and familiar faces around Basingstoke. She also finds joy in creating art that tells a story, out of everyday experiences and scenes.





COMMISSIONS
Bethany regularly completes private commissions in varying Media and subjects. She has also taken on larger public commissions including; a collaborative mural using children's mark-making for Merton Infant School's Entrance Hall and a Site Specific Installation, 'Teatime Reverie: An Eco Café', at The Art House in Southampton.





TEACHING AND WORKSHOPS
Having a PGCE in Life Long Learning Bethany is an experienced art tutor and workshop leader, a member of the Institute for Learning she believes that Art should be accessible to everyone. A patient and generous teacher she hopes to inspire her students both young and old. She runs regular classes in a number of venues for both beginners and more advanced painters as well as one-off workshops and demonstrations.

She has taught for Hampshire Futures (Adult Education), Learning at the Centre (Basingstoke Discovery Centre), Hampshire Learning (Hampshire Libraries), and the Adult and Community Learning Partnership (Basingstoke College of Technology).

Bethany has also taught children's classes and workshops including a day of workshops on mark-making and drawing owls, as part of the school entrance hall commission at Merton Infant School and an altered book project, for North Hampshire Home Education Group, which led to teaching a Key Stage 3 art class and a Pre-GCSE art class for HEET, (Home Education Group).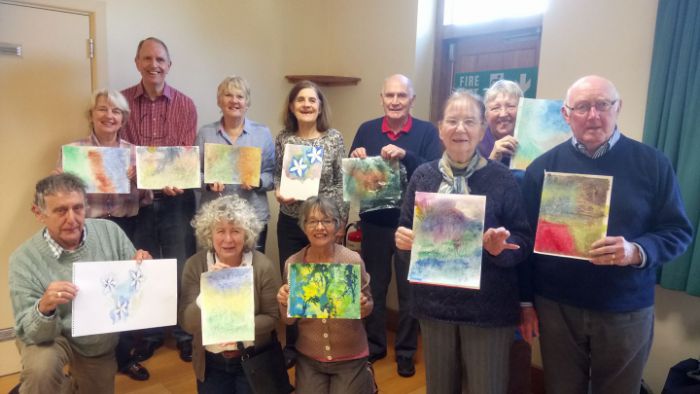 EXHIBITIONS
In 2017 she held a Solo Exhibition 'Everyday Narratives', at the Willis Museum in Basingstoke. Bethany's work has been exhibited in both National and International art exhibitions. She took part in shows at the Casa Batllo, Barcelona and Trans-Siberian Art Centre Exhibition, Moscow, Mongolia and Beijing.

National exhibitions for which Bethany's work has been selected include ING Discerning Eye (2010, 2018) and The Society of Women Artists (2013, 2014, and 2015) at the Mall Galleries, London. She has also exhibited at; Laura I. Gallery, Llewellyn Alexander Gallery, La Galleria, Topolski Century Gallery, Willesden Gallery, and Fringe Arts Festival in Bath, Aspex Gallery in Portsmouth, Southampton City Gallery, and the Link Gallery in Winchester.

As a member of Basingstoke Art Club Bethany regularly takes part in group shows at the Willis Museum and other local venues.





AWARDS
She was selected for the 10 Gales Art Prize, The Artist and Leisure Painter Online Exhibition, (Highly commended), West London Art Factory Scholarship Competition (short-listed; runner-up) and won the Public Vote for best artwork, at the Willis Museum Open Exhibitions in 2013 and 2011.