Events in 2016
Codes of Faith
10th December – 29th January 2016
Private view 10th December 6pm – 9pm
Laura I. Gallery, London, IG11 7BT
Laura I. Gallery is thrilled to announce its first group exhibition, "Codes Of Faith," opening on the 10th of December 2016 and timed to coincide with the lead up to the Christmas Holidays, a time of mysticism and spirituality for many individuals around the world.
Curated by Laura Iosifescu "Codes of Faith" is a group exhibition displaying artwork on the theme of faith from over 30 artists in order to celebrate diversity and promote world peace. Professional and amateur artists from myriad backgrounds and cultures will be displaying works representing their personal beliefs, varying from those who follow traditional religions to ideas about atheism and pagan spirituality. The aim of this multi-discipline exhibition is to inspire people to live in harmony, embrace differences and promote friendship and peace through our common values and wishes for personal peace and autonomy.
Throughout history, different religions and spiritual ideologies have had the power to separate people from each other and to create conflict. The organisers of "Codes of Faith aim to demonstrate that through art we can communicate to one another, overcome differences and unite in understanding and respect. By prompting dialogue and encouraging interdisciplinary exploration, "Codes of Faith" will ring in the holiday season in a truly thought-provoking way.
Laura I Gallery
Wildlife
Basingstoke Art Club
Willis Museum And Sainsbury Gallery
5th November - 16th December 2016
Preview 5th November at 13:30–15:30
An exhibition celebrating various aspects of 'wildlife' by local artists. The artwork will be for sale and there will be a public vote for the favourite exhibit. During the preview there will also be the opportunity to purchase greetings cards from the artists.
Ashford Hill Art and Craft Fair
Saturday 19th and Sunday 20th November 2016
11am – 4pm
St Paul's Church
Ashford Hill, RG19 8AZ
An exhibition of artworks made by a diverse group of local artists and craft stalls full of beautiful wares. Items on display and available for purchase will include paintings, prints, jewellery, hand-made gifts and greetings cards.
'Culture on the Common'
Sunday, 21st August 2016, 1 - 5pm
Hartley Wintney on the Cricket Green.
A local Art Exhibition/Craft Sale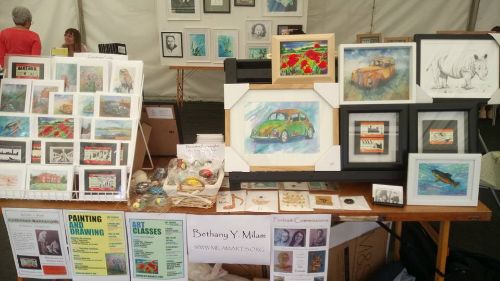 A Sporting Life
Southampton City Art Gallery from 25th June – 10th September 2016.
All works have been inspired by this year's theme, sport and recreation, which was chosen as we are in the year of the Olympic Games.
Southampton City Gallery
Old Basing Summer Festival 2016
Art Exhibition
Saturday 25th. June and Sunday 26th. June 2016
In the Bolton Chapel of St Mary's Church, Old Basing
Basingstoke Art Club Annual Spring Exhibition
Proteus Creation Space
Saturday 14th May to Friday 27th May 2016
Preview on Tuesday 17th May 6.30 – 8.00p.m.
Basingstoke Art Club