Events 2010
ING Discerning Eye Exhibition 2010
'Please Mind The Gap: Liverpool To London Euston' has been selected by Mark Rappolt for the ING Discerning Eye Exhibition at the Mall Galleries in London. The exhibition is open to the public from Thursday 11 November 2010 to Sunday 21 November 2010
The ING Discerning Eye Exhibition is a show of small works independently selected by six prominent figures from different areas of the art world: two artists, two collectors and two critics. Work is selected from open submission and from artists invited by the individual selectors.
Teatime Reverie:
An Eco Café
A site specific installation at the Art House, Southampton
2nd August – 29th September
This playful installation draws the viewer into a dreamlike world of teacup flowers, bluebell jugs and teapot roses. Delicate paper and mixed media work is combined with a drawn back drop that has the feel of an overgrown illustration. The work addresses the divide between reality and imagination through the creation of a fictional world that interacts with the site.
The Art House
An Interview discussing the work 'Teatime Reverie: An Eco Cafe' is viewable on the Arts and Culture Blog; 'PB Culture'.
PB Culture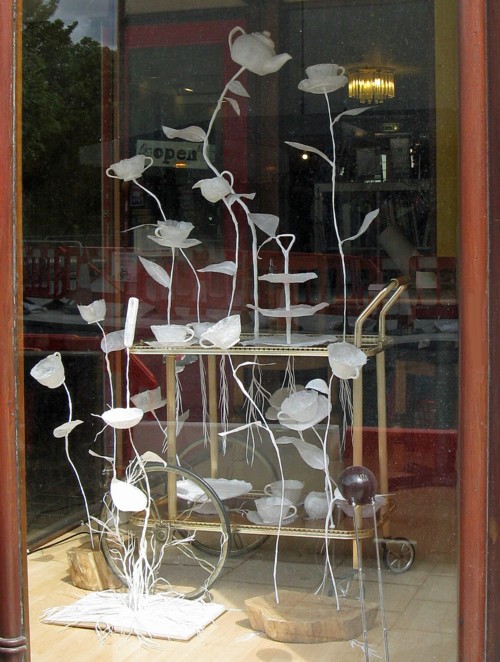 Old Basing Exhibition
24 - 25 July 2010
St. Mary's Church, Old Basing
Admission to the exhibition is free
An exhibition of paintings, sculpture and mixed media works by local artists, to coincide with the Old Basing 'Open Gardens' weekend. Refreshments and garden tickets/guides will be available from the marquee in front of the church.
Spring Exhibition
11th - 21st May
Private View 11th May
A salon style exhibition by Basingstoke Art Club Members held at Central Studio, Queen Mary's College.
Women's Work: Made to Fit
19th March - 17th April
Willis Museum Basingstoke
Private View on 19th March
The fourteenth annual exhibition by Women's Work, the organization founded by the Basingstoke Creativity Award winning artist Izita Kerr as a national platform for women to explore the issues of everyday life through their art. This year again sees a highly inventive and varied display of works specially 'made to fit' inside CD cases.