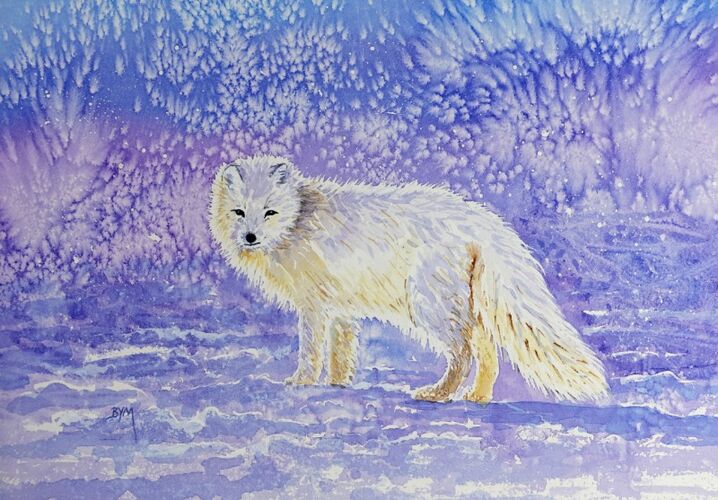 Learn To Draw Wolves, Foxes and Wild Dogs
Learn To Draw Wolves, Foxes and Wild Dogs
4 week Short Course
Mondays 2.00pm – 4.15pm
15th January - 5th February 2024
Online (Zoom)
£36.00

A fun online course drawing Wild Canines from around the world.
Learn to draw Wolves, foxes and all sorts of wild dogs. There are 37 species of Caninae found around the world today and we will be looking at drawing a selection of these, as well as concentrating on a few longer studies. The canine species covered will include; Red Fox, Grey Wolf, Black-backed jackal, coyote, fennec fox, Arctic fox, raccoon dog, African wild dog, plus more!
There will be a mix of drawing activities leading towards longer studies. We will look at anatomy, gesture drawing, movement, and fur textures, working from beautiful reference photos provided in an online folder for you to print and viewable on screen. This is a fun class with the chance to explore different drawing media and techniques, working in graphite pencil, coloured pencil, charcoal and ink, with demonstrations and tuition from artist and tutor Bethany Milam. Activities can be adapted to other media too!
Suitable for all abilities including beginners.
The sessions will last approximately two hours. There will be plenty of time to ask questions and I will make some time for individual feedback on your artwork at the end of the session.
Sessions are recorded and made available for participants to watch back for the duration of the course plus one month after. If you cannot attend live you can take part via recorded sessions and receive feedback on your artwork by email.
You will receive access to an online folder containing lesson resources, reference images, materials lists, resources and extra topic information. Feedback can be given during lesson time. You will also have access to a closed Facebook group to interact with other students.
Contact Bethany Milam to Book.
You will be emailed the details to pay (by PayPal).
Suggested Materials
Drawing/cartridge paper or a sketchbook (A4 or A3).
Heavy paper for ink study.
Toned paper (optional)
A range of graphite Pencils (HB – 6B)
Coloured pencils (optional)
Coloured pens (optional)
Willow charcoal
Charcoal pencils (optional)
White chalk (optional)
Drawing Pen (Waterproof)
White pen. (optional)
Indian ink or Drawing Ink (optional)
Putty rubber and Eraser
Pencil sharpener
Blending stumps (and other blending tools, cotton buds, cloths, brushes)
Ruler (optional)
Paintbrush for ink
An Apron and something to cover your table with.
HOW TO JOIN THE ONLINE CLASS:
Log onto zoom.us (please log in promptly to avoid disruption.)
a) You will be prompted to download & install the Zoom app. You can do this beforehand by going here: https://zoom.us/download
b) Click join meeting and enter the meeting ID. This is sent to you in the confirmation email.
c) You will be prompted to key in the password. This code is sent to you in the confirmation email.
d) You will be placed in a 'waiting room' before being admitted. Once entered into the meeting, your microphone may be automatically muted. I will normally unmute everyone to say hello at the start of the session and individually to give feedback at certain points and at the end of the session. During demonstration times, I will mute everyone's microphones to cut background noise. You can unmute your microphone to ask questions at any point. You can also talk to other participants at any time using the group chat (or the 1:1 chat) function.